september - november 2016
crox 527 a. liparoto (uk)
window project / instalraam
onderstraat 26, 9000 gent
16 october - 13 november 2016
opening saturday 15 october 18:00
crox 531 SEX MET VERF
aaron daem

carole vanderlinden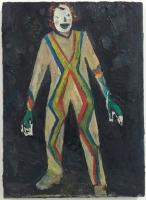 jan laroy

nicolas leus

veerle beckers
monday 31 october 2016 20:00
crox 533 katrijn de cooman, chloé geers, jitse huysmans
performance
sunday 23 october 2016 open ateliers nucleo
croxhapox @veeartsenijschool coupure rechts 308
crox 352 guest artist william ludwig lutgens
residents: check www.nucleo.be for more information on the event
performance 18:00 > 21:00 text by laura van on the residents at veeartsenijschool
28 october 2016 concert
fabian maddison
SLACK BIRD album release tour
tickets 5 euro
doors 19:30 concert 20:00
1 november - 18 december 2016
crox 534 THE PURSUIT OF THE GENTLEMEN'S GENTLEMEN
SEQUEL
director/s/ frank&robbert & robbert&frank & buren: melissa mabesoone, oshin albrecht
text/concept brian getnick & noe kidder (US)
note
THE GENTLEMEN'S GENTLEMEN is a theatre performance project by Brian Getnick, based in Los Angeles, and Noe Kidder, based in New York. It had its first and up to this date only public date in croxhapox in 2008. The text has been published as crox-book °9. Marianna Vogt, a German performer currently living in UK, and Frank & Robbert, had the chief parts during the 2008 performance, which took a month. See timetable: April 2008. The remake or sequel of this enchanting piece is directed by both Frank&Robbert & Robbert&Frank and buren, Melissa Mabesoone and Oshin Albrecht (residents at HISK). More communication on this daring and fortunate adventure will follow after summer.
sunday 13 november 2016 concert
crox 535 william parker (b) & giovanni barcella (d)
doors 19:30
tickets 10 euro
coproduction el negotico records croxhapox
crox 536 AUCTION / VEILING
A CROXHAPOX FUND AUCTION WILL BE HELD AT S.M.A.K. DECEMBER 2016
ALL WORKS WILL BE EXHIBITED AT CROXHAPOX DURING 2ND HALF OF NOVEMBER
THE AUCTION IS SPLIT IN /a/ AN ENTICING EXPO AT CROXHAPOX and /b/ THE AUCTION
ONLINE OFFERS POSSIBLE
MORE PRECISE INFORMATION COMING SOON
ARTISTS among others ADRIAAN VERWEE: ALAN SMITH: ANTOINE VAN IMPE: ARPAÏS DU BOIS: BENJAMIN VERDONCK: BIE MICHELS: BIEKE DEPUYDT: BOB VAN DE PUTTE: BRUNO VANDENBERGHE: BUREN: CAROLE VANDERLINDEN: CHRIS FIERENS: CHRISTOPHE LEZAIRE: COLETTE BROECKAERT: DIRK BRAECKMAN: DIRK SLOOTMAEKERS: DIRK ZOETE: FRANK&ROBBERT & ROBBERT&FRANK: GIANNINA URMENETA OTTIKER: HILLEBRAND VAN KAMPEN: HONORE D'O: JAN DE COCK: JOHAN DE WILDE: JOOP STOOP: KAROLIEN HAMERS: KLAAS VANHEE: KRIS FIERENS: KRISTOF VAN GESTEL: LAURA VAN SEVEREN: LEYLA AYDOSLU: LIEVE D'HONDT: LUCIA PENNINCKX: MARC PALMER: MARIO DE BRABANDERE: MAX PINCKERS: MEGGY RUSTAMOVA: MERLYN PARIDAEN: MICHEL COUTURIER: NEEL DE BRUYCKER: NEL AERTS: NELE TAS: NICOLAS LEUS: PAULIEN OLTHETEN: PETER MORRENS: REINHARD DOUBRAWA: RIK DE BOE: ROBIN VERMEERSCH: SACHA ECKES: SEBASTIEN CONARD: STIJN VAN DORPE: SUZAN BATU: THOMAS BOGAERT: TIM VOLCKAERT: TINKA PITTOORS: TUUR DELODDER: VEERLE BECKERS: VINCENT DE RODER: WILLIAM LUDWIG LUTGENS: WOUTER COX: WOUTER FEYAERTS: YOSHIMASA MATSUMOTO
vinyl 004 THE FOOD SUPPLEMENT
the singing painters meet carver & horn
coproduction S.M.A.K. BruthausGallery het balanseer croxhapox El Negocito Records
release concerts @BruthausGallery & S.M.A.K. january 2017
more information on the release coming soon
tracks from the live set @croxhapox on may 28th
artwork dirk zoete